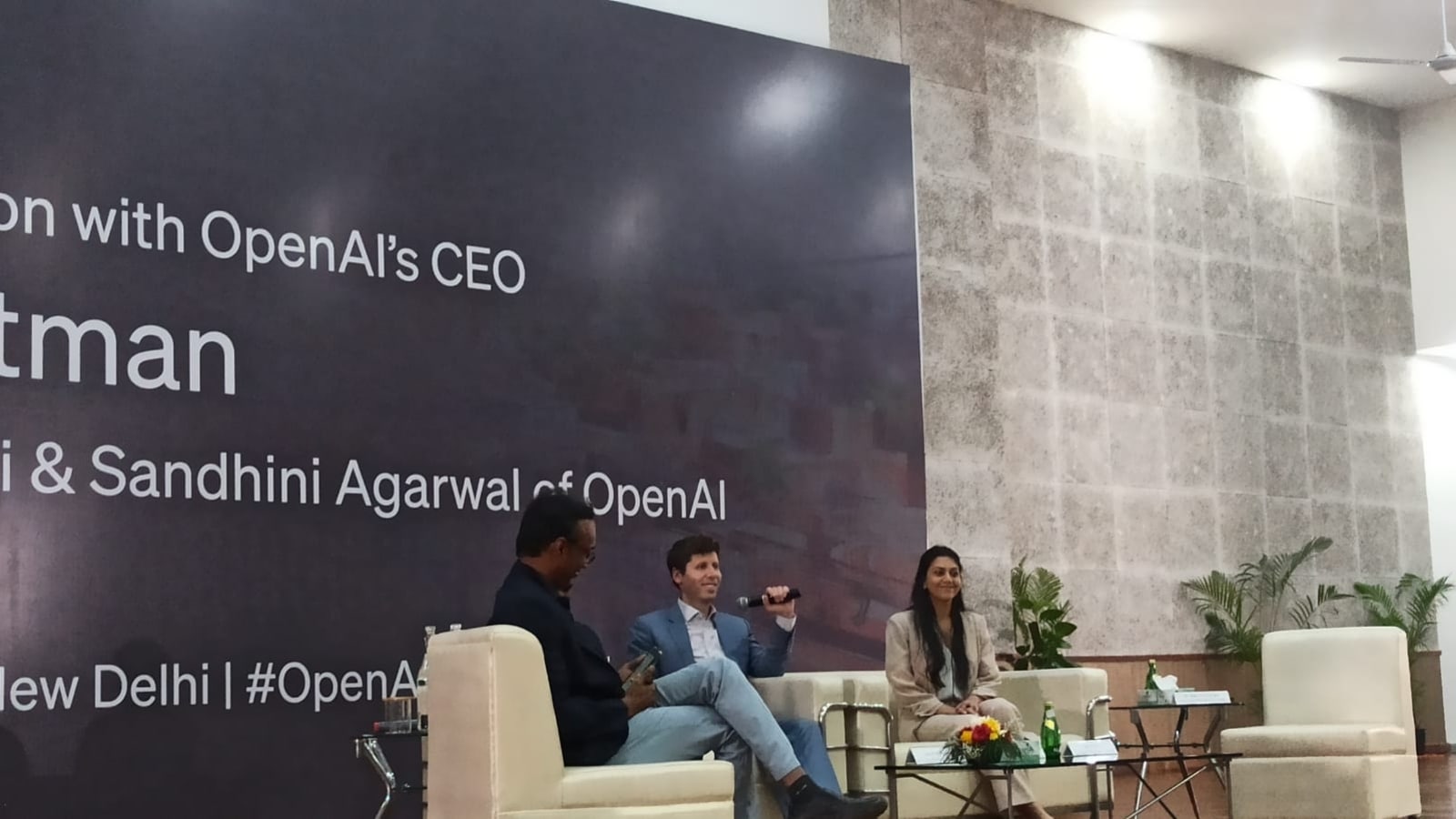 The OpenAI founder and CEO, and the creator of the popular AI chatbot ChatGPT, arrived in India yesterday, as part of his six-country tour. At the moment of writing this, he is participating in a special fireside chat at Indraprastha Institute of Information Technology, Delhi (IIIT-Delhi). We had the opportunity to attend the session where he spoke on a variety of topics including generative AI, ChatGPT, AI in India, and more. Interestingly, he said, "It (Generative AI) is going to be the most transformative technology humanity has ever invented."
In a meeting earlier during the day, Altman also met Prime Minister Modi and other top government officials. "I met PM Modi in the morning. meeting Modi was great. We talked about AI, and its potential. We also talked about its downside and why it is important to look into that," he said.
While OpenAI started as a robotics company, it has branched out and now primarily focuses on artificial intelligence technologies. So, could hardware be added to generative AI one day? According to Altman, "We started with robotics and we want to go back to it."
Regulation vs development
Several nations in recent years have introduced their national strategy documents on AI. With the technology developing at an increasingly rapid pace, what does the OpenAI think about the impact of regulation on the development of AI? According to Altman, I don't want to pause. A lot of making these models safer comes from working with these latest models."
"What will help is external audits and working with regulators. We need to build a regulatory framework. AI developers are the ones who are calling for regulation the most. We are aware of the dangers and want to find a solution to create a safe AI," he added further.
Impact of AI
While the growth of AI in the last few years has been a boon for most, it has also given rise to difficult questions about its socioeconomic impact. There have numerous been debates around whether AI would ultimately take the jobs currently done by humans. Speaking on this topic, Altman said, "AI is going to 100x human productivity. Human creativity is something AI cannot overtake."
The issue of AI hallucination has also cropped up where AI models fabricate information and present it as facts. So, does OpenAI have a plan in place to prevent this? According to Altman, "It will take us about a year to perfect the model. It is a balance between creativity and accuracy and we are trying to minimize the problem."
At present, "I trust the answers that come out of ChatGPT the least out of anyone else on this Earth."
Speaking about safeguards around AI, Altman said, "There is no one solution to make AI safe. We improve the algorithm, conduct audits, work on keeping parameters, and more in order to engineer safe AI."
"If AI goes wrong, no gas masks in the world can help you," he added further.
Investment in India
India has also jumped on the artificial intelligence (AI) bandwagon, with the country set to introduce a Digital India framework which will replace the existing IT Act, to put guardrails around the use of artificial intelligence and digital space.
Sam Altman was also asked about a potential OpenAI office in India, to which he replied, "First we will invest in startups in India. Their quality is really good. We plan to build technology around mobile and the internet. "
Going against own advice
The OpenAI CEO was also asked if he ever went against his own advice, to which, he replied, "I feel so bad about the startup advice I give that I might delete my entire blog."
"With OpenAI we took an unusual path. It did work out for us luckily but it is not an advice we give to others," he added.