The weekend has ended, and our busy lifestyle is back in action. Our mornings are filled with household chores and getting ready for the office. Amid this routine, a delicious and fulfilling breakfast takes a toss, and some of us straight away eat brunch or lunch. While our mornings are undoubtedly busy, we might take a break for 15-20 minutes during this time. And if you also have this break, how about making a quick and easy breakfast? While you may think that cooking breakfast will take up your time, here we have some recipes that will be ready within minutes. The recipes that we bring you today are made from potatoes. In these dishes, you won't need any extra ingredients. With just a few things, these recipes will satisfy your hungry belly!
(Also Read: Tandoori Nazakat Aloo Recipe: Enjoy This Crunchy Potato-Paneer Snack For A Mid-Week Indulgence)
Here're 7 Aloo Breakfast Recipes You Can Try:
This is the simplest recipe and is delicious to have. All you need are some boiled potatoes cooked in spices. Then just fill the mixture in the middle of your sandwich and grill it in a toaster. If you have aloo sabzi left over from last night, mash it up and use it as a filling. It will be equally delicious!
Another yummy recipe popular in every north Indian household is classic aloo paratha. This delight is stuffed with spicy aloo masala. And when this is paired with curd and achar, it becomes even more indulgent to have. Don't forget to top this with some butter.
We love south Indian recipes that can be cooked in minutes. Here the traditional rice flour batter, which is fermented, is swapped with potatoes, soaked rice, and some spices. After the batter is ready, you can choose to add as many vegetables as you want. The vegetables help to increase the nutritional value of this dish.
(Also Read: From Dal Aloo Tikki To Chole Aloo Tikki: 5 Yummy Aloo Tikki Recipes That Will Tingle Your Tastebuds)
Hash brown, an American morning favourite, is like an aloo tikki prepared with grated potatoes and seasonings. Hash is derived from the French word "hacher," which means "chopped"; hence, it implies potatoes that have been browned and hashed.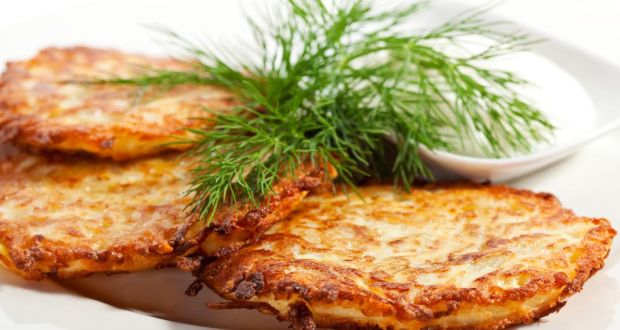 In this specific bread roll recipe, we have included some of our favourite ingredients, including cheese, potatoes, masalas, and bread. This recipe is perfect for the days when you want to have a heavy and fulfilling breakfast. Pair this with chutney, and enjoy!
Another deep-fried recipe that is fantastic for any day is this aloo paneer pakoda. You get the best of both aloo and paneer in this recipe. If you wish to, you can even layer a chutney inside the pakoda and give it a unique twist!
In this cutlet recipe, we have used both potatoes and semiyan. Usually, this is fried. But if you wish to keep this less oily, then pan-fry it or air-fry it. The taste will be delicious any way you cook it.
So, the next time you are unable to decide what to cook for breakfast, do try these recipes. Let us know which one was your favourite of them all!