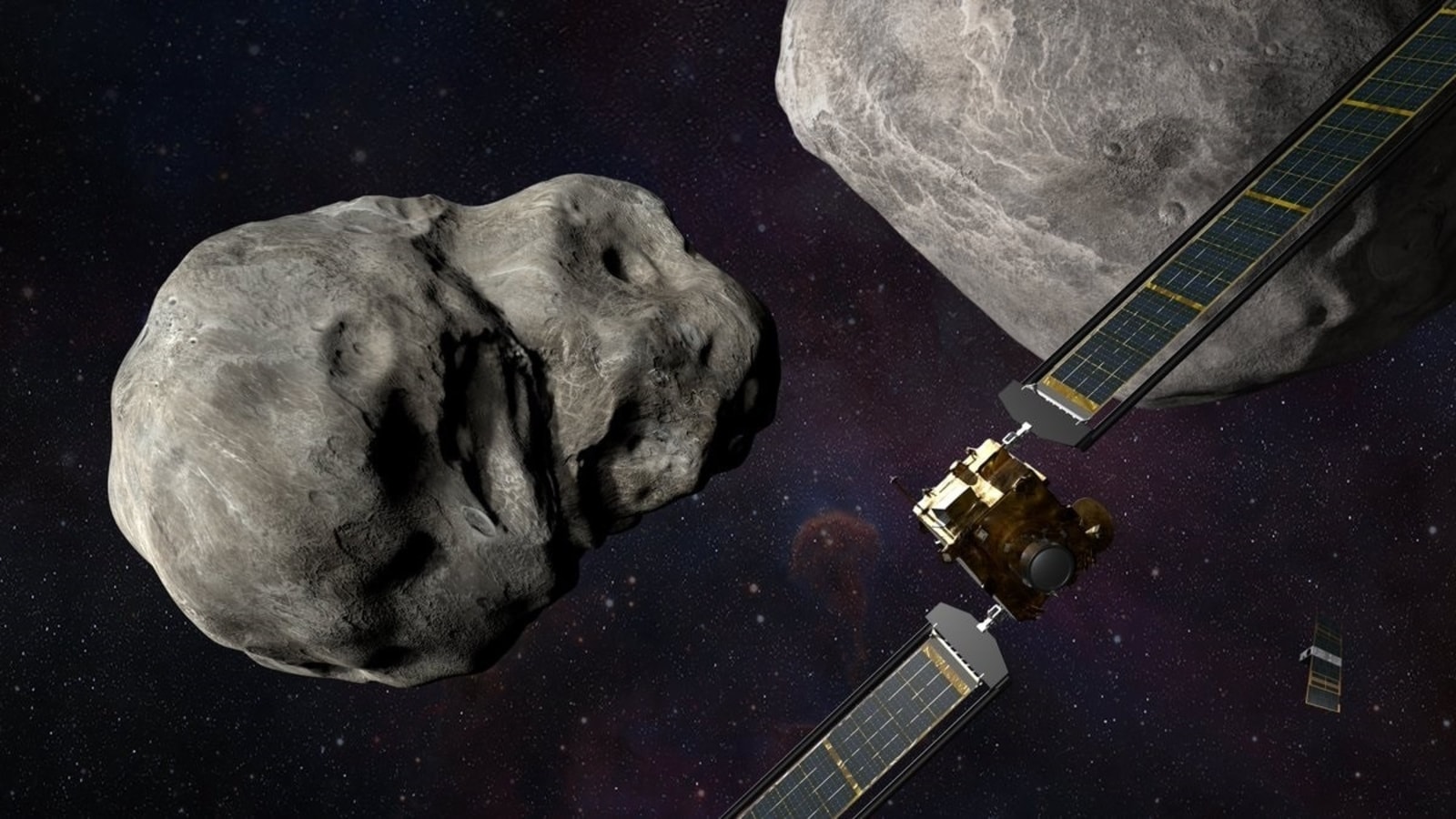 NASA's DART Mission is set to collide with its target asteroid on September 26 this year. Here's what we know so far. You can watch the NASA DART mission live.
What if an asteroid is headed for Earth? What would happen if any of the stray asteroids in the solar system hit Earth? Could we save ourselves from total annihilation? If such questions have crossed your mind, then your questions could get answered soon, thanks to NASA's DART Mission. The DART mission spacecraft is set to impact its target Dimorphos asteroid on September 26 and you can watch the NASA event live.
DART Mission's first planetary defense test is set to take place on August 26 at 7:14 p.m. EDT when the spacecraft will impact the target asteroid.
NASA has scheduled a day full of events, briefings and watchalong. Here's the full schedule by NASA.
How to watch the NASA DART Mission Live:
Monday, Sept. 12
9 a.m. – NASA will host a hybrid media day at APL focused on the technology enabling the DART spacecraft to autonomously navigate to and impact its target asteroid. Participants include leaders from NASA and the DART mission team. In-person attendees will have an opportunity to tour the DART mission operations center at APL, Maryland.
Thursday, Sept. 22
3 p.m. – Media briefing at NASA Headquarters to preview DART's final activities before its impact with Dimorphos. The media briefing will take place in the Webb Auditorium at NASA Headquarters in Washington and include senior leaders from NASA and APL.
Monday, Sept. 26 (DART Impact Day)
Media interested in covering the DART impact from APL must complete this form by 3 p.m. on Friday, Sept. 2.
6 p.m. – Live coverage of DART's impact with the asteroid Dimorphos will air on NASA TV and the agency's website. The public also can watch live on agency social media accounts on Facebook, Twitter, and YouTube.
7:14 p.m. – DART's kinetic impact with asteroid Dimorphos.
What is the DART Mission?
Double Asteroid Detection Test or DART Mission is a $240 million mission by NASA to protect the Earth from a potential asteroid impact. The aim of the mission is to smash a spacecraft into the Dimorphos asteroid to deflect it away from its path. While this asteroid in no way threatens Earth, the NASA asteroid mission is to carry out an experiment to gain greater knowledge as to what happens when a craft is crashed against a space rock. This knowledge will be used if an actual asteroid threatens to crash against the Earth.
The DART mission has already sent the main spacecraft to space in November, 2021. It includes a satellite made by the Italian Space Agency. Another spacecraft is set to launch by 2026, to measure the impact.
According to NASA, "DART is the first-ever mission dedicated to investigating and demonstrating one method of asteroid deflection by changing an asteroid's motion in space through kinetic impact."