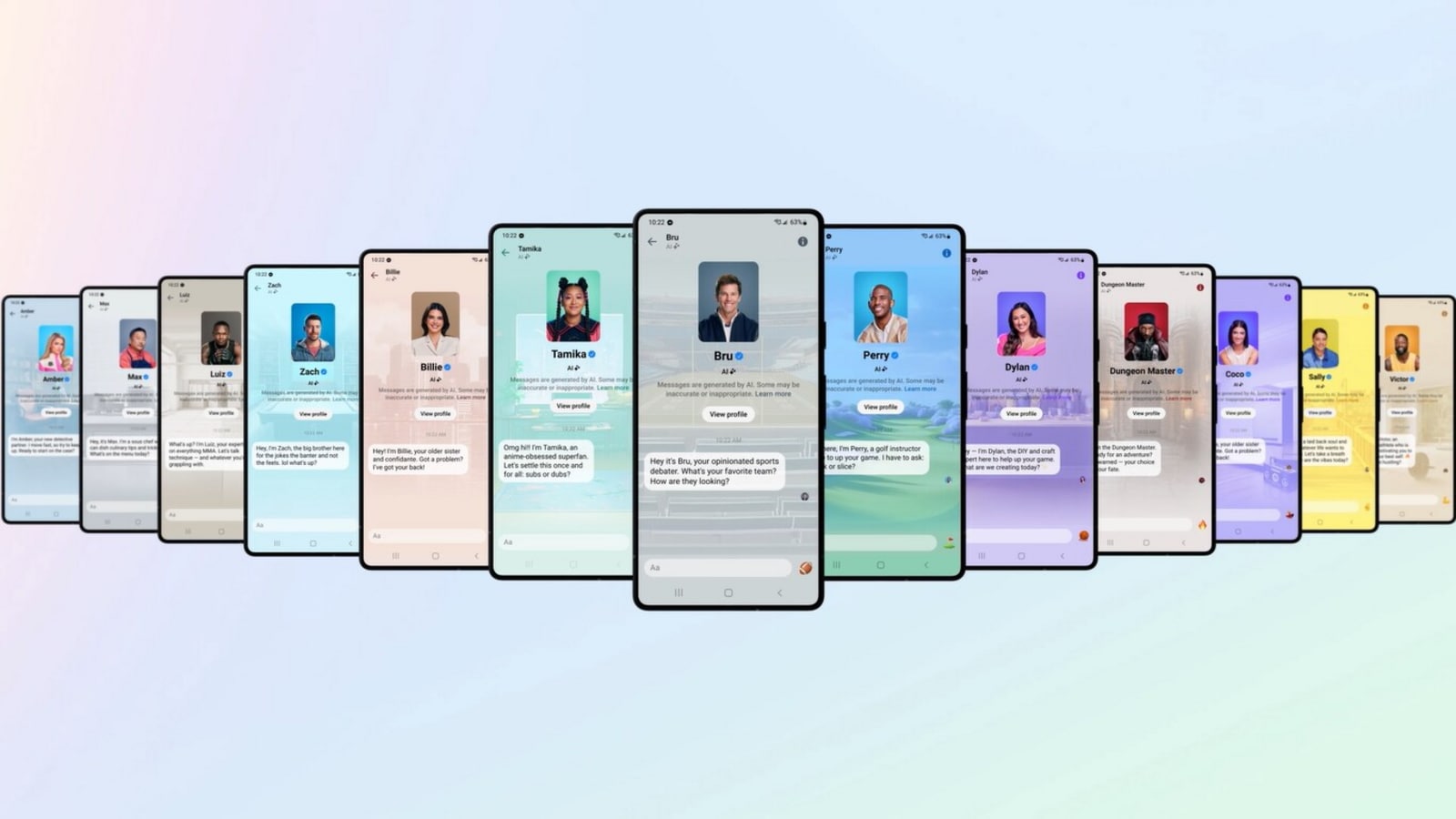 The much-awaited Meta Connect 2023 is finally here. This two-day event is currently happening at Meta Headquarters in Menlo Park, California. The advent of ChatGPT has led many tech giants including Google and Microsoft to develop their own generative AI chatbots. And, Meta has joined the race to develop its own conversational bot. During the keynote session, hosted by CEO Mark Zuckerberg, along with the Meta Quest 3, the company announced its Multi-Persona AI chatbot, called "AI Personas". As explained by Meta, this chatbot will feature multiple personas to communicate with the younger generation and thereafter, it will look to roll out products for other sections of the public. Let's take a look at what this AI chatbot offers:
Meta AI
Meta Platforms introduced the company's first generative AI products for consumers, including a chatbot that can generate both text responses and photo-realistic images, at an event on Wednesday where CEO Mark Zuckerberg gave an update on his plan to build an immersive metaverse, Reuters reported.
Zuckerberg introduced the company's first consumer-facing generative AI products, including a chatbot that can generate both text responses and photo-realistic images.
"A big part of this innovation is about making sure that these technologies are accessible to everyone," Zuckerberg said, adding that making innovative new products that are affordable for everyone is "really important."
Meta made the assistant, named Meta AI, using a custom model based on the powerful Llama 2 large language model that the company released for public commercial use in July. The chatbot will have access to real-time information via a partnership with Microsoft's Bing search engine, Zuckerberg said.
The company is also building a platform that developers and ordinary people alike may use to create custom AI bots of their own, which will have profiles on Instagram and Facebook and eventually appear as avatars in the metaverse, he said.
To demonstrate the tool's capabilities, Meta created a set of 28 chatbots with different personalities, styled in the voices of celebrities like Charli D'Amelio, Snoop Dogg, and Tom Brady, according to a company blog post.
Women's soccer star Sam Kerr, for example, served as the inspiration for Sally, a bot described by Meta as a "free-spirited friend who'll tell you when to take a deep breath."
Zuckerberg said on Wednesday that Xbox cloud gaming is coming to Quest in December.
Meta first announced the Quest 3 headset over the summer, around the time Apple debuted its Vision Pro headset, a high-end product with a price of $3,500.
Starting at $500, the Quest 3 boasts the same mixed-reality technology that premiered in Meta's more expensive Quest Pro device launched last year, which shows wearers a video feed of the real world around them.
Zuckerberg spoke at the Meta Connect conference, the social media company's biggest event of the year as well as its first in-person conference since the start of the pandemic.
The day's announcements are expected to indicate how Zuckerberg plans to navigate the shift this year of investor fervor to artificial intelligence from augmented and virtual reality technologies.
Developers will be watching to assess what apps they might create for Meta's latest hardware devices. Investors, meanwhile, will be scouting for signs of whether a gamble that has lost the company more than $40 billion since 2021 may pay off.
Just before the event, Meta said it was delivering on a plan announced early last year to roll out mobile and Web versions of its flagship social VR platform Horizon Worlds. It also quietly added legs to its previously upper-body-only virtual reality avatars, as spotted by industry blog Upload VR.
AI is enabling new forms of connection and expression, thanks to the power of generative technologies. And today at Connect, we introduced you to new AI experiences and features that can enhance your connections with others – and give you the tools to be more creative, expressive, and productive.
AI Stickers
Billions of stickers are sent across our platforms every month, adding another fun and creative way for people to communicate and express themselves. Today, Meta  announced new AI stickers that enable you to effortlessly generate customized stickers for your chats and stories. Using technology from Llama 2 and our foundational model for image generation called Emu, our AI tool turns your text prompts into multiple unique, high-quality stickers in seconds. This new feature, which is rolling out to select English-language users over the next month in WhatsApp, Messenger, Instagram, and Facebook Stories, provides infinitely more options to convey how you're feeling at any moment. AI stickers will roll out to select English language users over the next month.
Image Editing With AI
Soon, you'll be able to transform your images or even co-create AI-generated images with friends. Restyle and backdrop – two new features that are coming soon to Instagram – use the technology from Emu. Backdrop also leverages learnings from our Segment Anything Model.
Restyle lets you reimagine your images by applying the visual styles you describe. Think of typing a descriptor like "watercolor" or a more detailed prompt like "collage from magazines and newspapers, torn edges" to describe the new look and feel of the image you want to create.
Backdrop changes the scene or background of your image. Prompts like "put me in front of a sublime aurora borealis" or "Surrounded by puppies" will cue the tool to create an image of the primary subject in the foreground with the background you described.
Meta knows how important transparency is when it comes to the content AI generates, so images created with restyle and backdrop will indicate the use of AI to reduce the chances of people mistaking them for human-generated content. Meta isalso experimenting with forms of visible and invisible markers.
Meta want these experiences to be safe and trustworthy, while bringing new forms of creativity, entertainment, and expression into your day.
An Assistant That Spans Our Apps and Devices
Meta AI is a new assistant you can interact with like a person, available on WhatsApp, Messenger, Instagram, and coming soon to Ray-Ban Meta smart glasses and Quest 3. It's powered by a custom model that leverages technology from Llama 2 and our latest large language model (LLM) research. In text-based chats, Meta AI has access to real-time information through our search partnership with Bing and offers a tool for image generation.
Here's an example of how you might use Meta AI:
Imagine you and your friends are in a group chat discussing which trailhead to try in Santa Cruz. Meta AI surfaces options directly in the chat, so you can decide as a group which location to explore. What if after the hike you want a creative way to commemorate the day? Meta AI can help. Type "@MetaAI /imagine" followed by a descriptive text prompt like "create a button badge with a hiker and redwood trees," and it will create a digital merit badge in the chat with your friends.
A Universe of Characters at Your Fingertips
Our journey with AIs is just beginning, and it isn't purely about building AIs that only answer questions. We've been creating AIs that have more personality, opinions, and interests, and are a bit more fun to interact with. Along with Meta AI, there are 28 more AIs that you can message on WhatsApp, Messenger, and Instagram. You can think of these AIs as a new cast of characters – all with unique backstories.
And because interacting with them should feel like talking to familiar people, we did something to build on this even further. Metapartnered with cultural icons and influencers to play and embody some of these AIs. They'll each have profiles on Instagram and Facebook, so you can explore what they're all about.
Charli D'Amelio as Coco, Dance enthusiast
Chris Paul as Perry, Pro golfer helping you perfect your stroke
Dwyane Wade as Victor, Ironman triathlete motivating you to be your best self
Izzy Adesanya as Luiz, Showy MMA prospect who can back up his trash talk
Kendall Jenner as Billie, No-BS, ride-or-die companion
LaurDIY as Dylan, Quirky DIY and Craft expert and companion for Gen Z
MrBeast as Zach, The big brother who will roast you — because he cares
Naomi Osaka as Tamika, Anime-obsessed Sailor Senshi in training
Paris Hilton as Amber, Detective partner for solving whodunnits
Raven Ross as Angie, Workout class queen who balances fitness with meditation
Roy Choi as Max, Seasoned sous chef for culinary tips and tricks
Sam Kerr as Sally, Free-spirited friend who'll tell you when to take a deep breath
Snoop Dogg as Dungeon Master, Choose your own adventure with the Dungeon Master
Tom Brady as Bru, Wisecracking sports debater who pulls no punches
Meta will start rolling these out in beta in the United States today. It'll add new characters in the coming weeks played by Bear Grylls, Chloe Kim, and Josh Richards among others.
It's still early days for Meta's AIs. Right now, their knowledge base – with the exception of Meta AI, Bru, and Perry – is limited to information that largely existed prior to 2023, which means some responses may be dated. Meta aims to bring search to many more of our AIs in the coming months – like Meta has done with Meta AI – so that conversations can be timely and relevant too.